If you have become a full-time gamer, it is time to consider getting the best gaming desk. Why should you invest in the best gaming experience? Isn't a regular desk enough? Well, if you want to have the ultimate gaming experience, all the equipment involved in this activity should be the best. That includes your desk.
But how can you select the best gaming desk? First of all, you need to know what makes a desk an outstanding gaming desk. You have to consider a lot of factors to choose the perfect gaming desk for you. Some of these factors include:
● Available space in your room;
● Personal preference (color, style, etc.);
● Allocated budget.
Some gaming desks come with features that make them more appealing. For example, a standing desk for gaming allows you to adjust the height of the tabletop with the push of a button. In this way, you can have a fully-fledged battle station to enjoy your gaming to the fullest. So, let us begin our discussion.
Why Should You Get a Gaming Desk?
If you like playing computer games for hours, you will surely prefer gaming comfortably. That is the main reason you should consider a gaming desk instead of using a regular desk. A gaming desk is designed to meet the requirements of gamers. Particularly, a gaming desk has a large surface to allow placing all your gaming rigs without space constraints.
Also, a gaming desk will provide storage options for your peripherals and accessories (headphone hooks, cup holders, etc.). Additionally, a gaming desk comes with the necessary accessories to hide the wires and cables on the desk (grommets, rear power strip, etc.). What's more, on a professional gaming desk, you can enjoy a full-desk mouse pad. Hence, you can control your games with utmost accuracy and comfort.
These are some of the reasons to get a gaming desk. There are many more benefits that we did not list here. But you probably are already convinced that a gaming desk will make your gaming experience more rewarding than a regular table.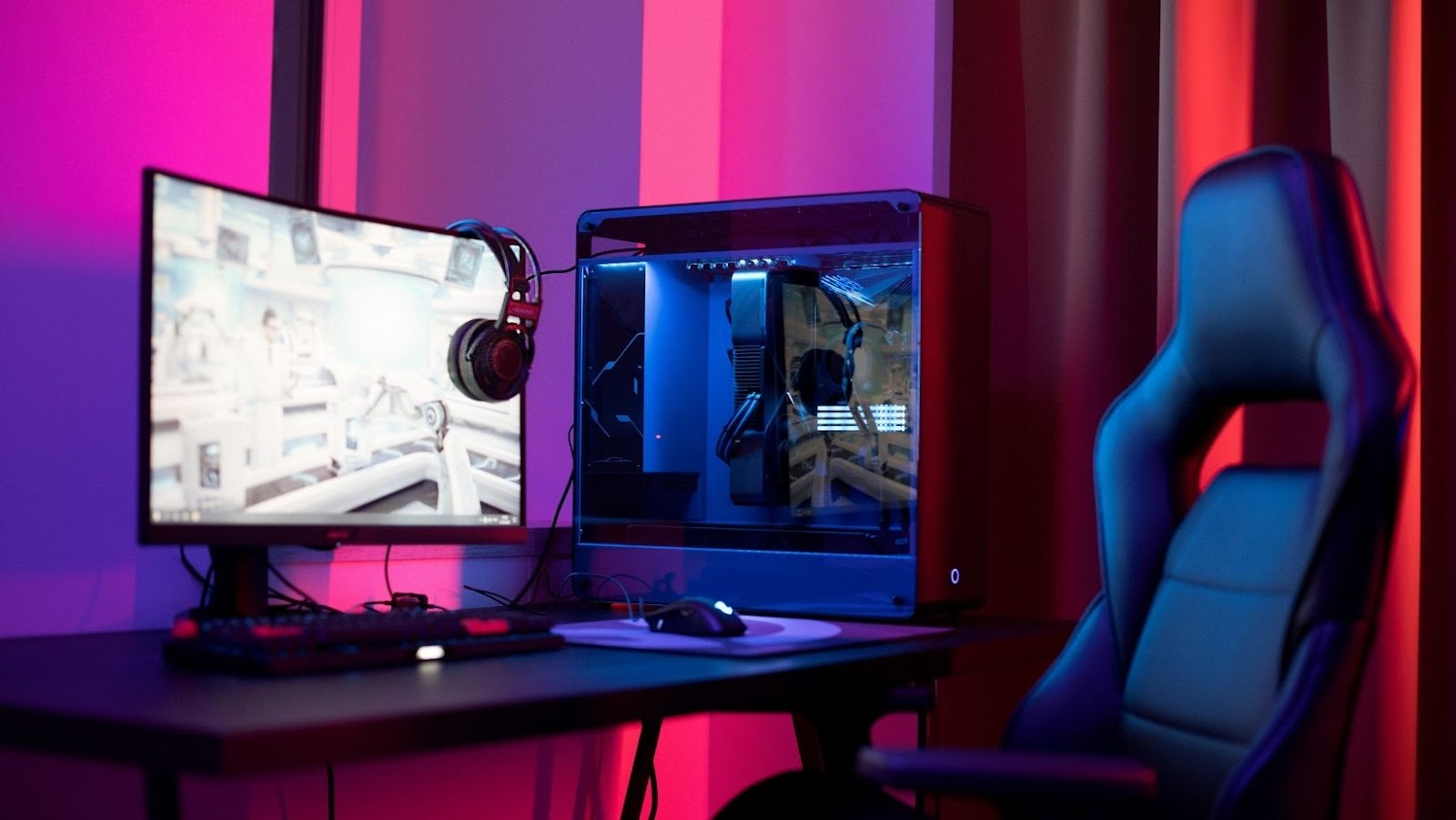 Choosing the Finest Gaming Desk
The most notable feature of a regular gaming desk and a high-end gaming desk is ergonomics. Top gaming desks are designed to ensure you maintain a good posture during the many hours you spend gaming. Ergonomics and comfort can take your gaming experience to a whole new level. But how to choose the best for you? Gaming desks come in different prices and designs. To narrow your search, you should consider the following points.
Space in Your Room and Size of the Gaming Desk
Decide what size your desk must be to accommodate all your gaming rigs and multiple monitor screens. You should probably get the larger gaming desk you can afford. But you should also take into account the space available in your room. Make sure your gaming desk will fit in.
There are different types of gaming desks in the market: regular, ergonomic, standing (motorized), etc. There are different styles and materials too. Choose the type of desk that satisfies your requirements and needs. Take into account that some types are more expensive. Standing desks, for example, carry an extra cost because of the electric or pneumatic system to lift and drop the tabletop.
Last but not least, make sure you can afford the gaming desk you have chosen. However, it is not recommended to compromise on ergonomics and comfort. If the gaming desk you have chosen exceeds your budget, you can look for another option with a less fancy finish, for example.